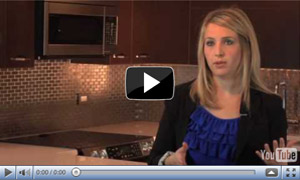 A complete kitchen makeover can give you that dream space you've always wanted while adding considerable value to your home.
Careful selection of finishes and colors can customize this space especially for you.
Kitchen Remodeling is one of the most popular home improvement projects for homeowners. Kitchen Remodeling not only improves the enjoyment and usefulness of the home, but it adds almost instant increased value and equity to both older and newer homes.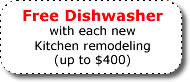 Your Kitchen Remodeling Professional will help you plan and design your new kitchen for maximum functionality and attractiveness. He or she can help you select the cabinetry that best suits your needs and budget, determining whether refacing or replacing will be your best option.
Chicago Kitchen Cabinet Remodeling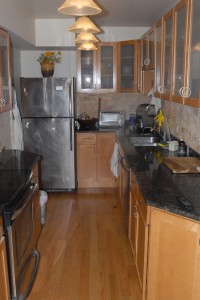 One of the best ways to get a great deal of impact for a relatively low investment is to do a kitchen cabinet upgrade to enhance and update the look of your kitchen. Over the years, many homeowners have discovered that they have been able to realize significant increases in the value in their home when they focus on making their kitchen look as appealing as possible, while also making it a place that makes cooking and meal preparations easy, pain-less and trouble free.
Choose from the many door types including: Slab-Flat, Recessed, Raised, or Routed.
Granite Counter Tops
We import exclusively premium quality granite slabs from the most prestigious quarries around the world. You can rest assured that your counter tops will be truly exceptional.
Sinks
No longer are kitchen sinks just a basic necessity of the kitchen, much like bathroom vanities, in recent years they are also becoming a focal point, that compliments the rest of the room's design.
The kitchen sink might not be the first thing that comes to mind when it's time for a kitchen renovation, but it's a vital part of any upgrade. The kitchen sink can form the focal point of the kitchen and has the ability add a touch of class to the whole kitchen.
At Budget Construction Company we have a wide range of kitchen sink styles to suite any budget. Whether you are looking for a large double bowl sink, a modest single bowl sink or a classy bar sink, we have it here for you.
Walls
Choosing the right kitchen layout for your space is one of the most important decisions to make. Of course, much of your decision will already be dictated by the space available to you. For example, a thin, rectangular-shaped space can only be transformed into a galley or one-wall kitchen. Whichever layout you opt for, it is important to consider the current position of the electrical, gas and plumbing connections moving any of these outlets can be costly.
Ask us about the various kitchen layouts to choose from which include:
One Wall, Two Walls, L-Shape, U-Shape, Island, and Open Plan.
New Appliances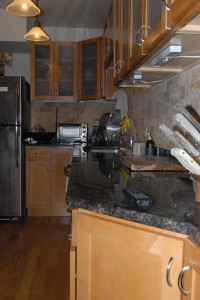 Modern technology today provides an enormous range of kitchen appliances, from the basic stoves & dishwashers to coffee machines and food disposal units.
The type of appliance you choose will depend on practicality, looks and of course price. As a starting point, it will help if you decide whether you prefer gas or electrical cooking appliances. Once you have decided on that, their might be a particular brand that you favor. If you try to buy most of your appliances together sticking with the same brand you can get great kitchen package deals at fantastic prices.
When comparing appliances don't forget to assess your needs and make sure that the features cover your requirements. Whether it be an oven large enough to cook the Christmas turkey, a dishwasher that is low in water consumption or a microwave that will fit your favorite Pyrex dish.
Chicago Kitchen Remodeling | Chicago Kitchen Renovation | Chicago Kitchen Design