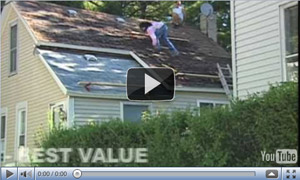 We understand choosing a roof is a serious decision. As a homeowner you need as much information as possible. We are happy to spend the necessary time to educate prospective buyers on the options. Your roof and the related roof flashing are probably the most important components of your house. They protect everything else below them.
Budget Construction Company offers expert roofing repairs, restorations and re-roofing on all types of steep roofs – shingle, slate, tile, wood shingles, wood shakes and standing seam and flat seam metal.
Budget Construction Company employees have years of experience and are experts in investigating problems, designing solutions and providing quality installations on all types of residential roofs.
Chicago Types of Roofing
Slate Roofs offer a high standard of weatherproofing, look good, but are very expensive. An imitation of slate is available in concrete tiles and in fiber cement sheet.
Shingles can be made of timber or fibrous cement. Generally both last well and have good insulating properties. However, availability can be a problem.
Recycled Rubber is designed as an improvement to real slate roofing, it is more durable, flexible, lighter in weight and easier to install.
So authentic, looking from more than 2 meters away, these slates look real. The molds for these slates are computer engineered and precision crafted to achieve the special, natural look of 100 year old slates.
This innovative and revolutionary roofing material not only duplicates the classic look of natural slate but is an improvement on it. These roofing slates are very easy to install, without the need for extra structural support, which is required for other types of roofing materials.
Roof Chicago | Chicago Roofing | Chicago Roof Replacement | Roof Contractors Chicago | Chicago Roofer