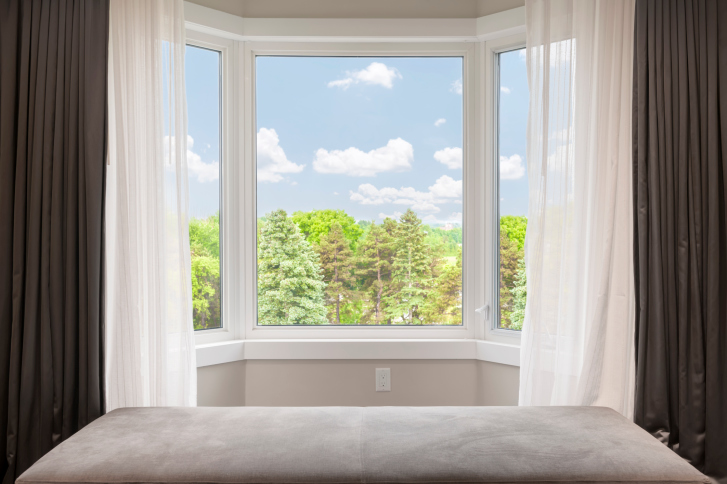 As a Chicagoland homeowner, you are always looking for ways to get more value out of your residence. Of course, value means different things to different people. At Budget Construction Company, we have nearly 40 years of experience helping consumers beautify and add value to their homes in many different and affordable ways, such as new siding, doors, additions, roofing, kitchen and bath renovations, and new windows. One of the most popular types of windows homeowners inquire about are bay or bow windows.
Beautify Your Living Space with a Bay Window
Traditionally, a bay window – a window space that is constructed outward from the main walls of a home – was long a feature almost found exclusively in Victorian architecture. But that philosophy has changed the last 50 years as designers, builders, and homeowners have sought to integrate these adaptable window types into different kinds of homes. Today, it is not unusual for our design consultants to work with owners of newly built or existing homes of many styles, including Colonial, American Craftsman, Art Deco, Neoclassical, Georgian, Tudor, and countless others to help them decide if a bay window is a worthwhile investment.
Why Consider a Bay Window?
If your home is in desperate need of a splash of style or personality, perhaps no addition is more practical or versatile than a bay window. A bay window designed and installed by Budget Construction Company offers many benefits, including:
Creating more usable space.
Allows more natural light into your home.
Can be used for extra seating, or doubles as a casual dining area.
Creates three new angles, thereby broadening the visual perspective in a room and making it appear larger.
Makes it easier to enjoy beautiful landscapes.
Our professional and courteous design team works with each homeowner to ensure they select a bay window that meets their needs, makes their home aesthetically pleasing, and delivers the value and quality they expect at the best price in Chicago. For more information, call us today at 773-283-9200.
What to Know About Bay Windows
Like other home improvements, bay windows can be simple, elegant, or anywhere in between. They mostly come in two variants: A traditional bay or canted window type, with angled sides and a flat front, and bow style, which is curved along three sides. Here are some other worthwhile facts about bay windows:
Bay windows are available in different building materials, including wood, aluminum, vinyl, clad (wood on the inside, another material on the outside), steel, and many specialty materials based on manufacturer or homeowner specifications.
Bay windows are made of three windows joined to make a single unit: a large, center window, and two smaller side windows.
Widths range from three and a half to 10 and a half feet; bay windows can be anywhere from three and a half to six and a half feet tall.
Bay windows utilize different technology to help you save on energy costs, including double and triple low-E glazing, argon and krypton gas between glass panes, spacers between glass panes, and even photovoltaic materials that convert sunlight to electricity.
Finally, bay windows can be designed to match any architecture and home décor.
Why Choose Budget Construction Company?
At Budget Construction Company, we treat each homeowner as we would a member of our own family. This means delivering unrivaled quality and craftsmanship, attention to detail, an extended warranty period on all work we perform inside and outside the home, and value-focused home improvements to meet any financial constraints.
For more information on bay windows, or to schedule a complimentary in-home consultation, call us today at 773-283-9200.