Choosing your new roofing is a big decision – With us, you will get the quality roof you need at the price you want.
If you need a new roof for your next project, whether it is new construction or a renovation, Budget Construction Company will make it happen. We offer expert Chicago roofing repairs, restorations, and re-roofing on all types of steep roofs throughout the Chicagoland area including:
Shingle
Slate
Tile
Wood Shingles
Wood Shakes
Standing Seam
Flat Seam Metal
Our licensed and bonded roofing employees have years of experience in investigating problems, designing solutions, and providing quality installations on all types of residential roofs. In addition to getting the best team to repair or replace your roof, you will save tons of money hiring Budget Construction Company for your roof replacement! It's a win-win solution.
Our Chicago Roofers are Right for The Job!
If you have questions or concerns regarding your Chicago roofing needs, our knowledgeable staff will provide you all the information you need to become educated on all your buying options. Your roof and the related flashing are of utmost importance for your house as they protect everything below them. Let us help you make the right decision to keep your home safe, protected, and aesthetically appealing.
Types of Roofing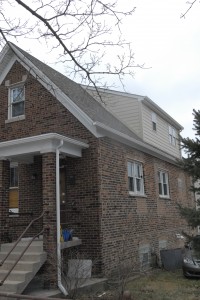 Slate Roofs – This type of roof offers a high standard of weather-proofing and is aesthetically appealing. Unfortunately, the cost is high for this type of roof. There is an imitation available for slate which is available in concrete tiles and fiber cement sheet.
Shingles – This type of roof is typically made of timber or fibrous cement. Shingles are incredibly durable, lasting for many years, and are well-insulated. A drawback is that shingles are not easily available.
Recycled Rubber – This type of roof was developed as an improved replacement to real slate roofing. It is more durable, flexible, light in weight, and much easier to install. There is no need for extra structural support which is required for the other types of roofing materials. It also looks completely authentic from as little as 2 meters away and is better for the environment since it is made of recycled rubber. The molds for the slates are computer engineered and precision-crafted to achieve the natural look of 100 year old slates.
No matter your budget and style, Budget Construction can help you choose the best option for your roof.