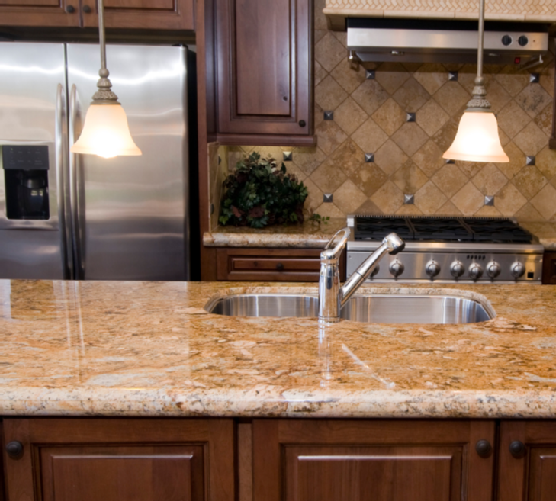 Whether you are redesigning your kitchen or building one from the ground up, the material that you choose for the countertop for have a large effect on your kitchen's style and durability. But there are so many kitchen countertop choices out there that it can be hard to select the right one. In this article we will take a closer look at the popular kitchen countertop materials to help make the decision easier for you.
This is probably the most popular kitchen countertop material. Opt for polished granite for a traditional look, or honed granite if you want a matte finish. In addition to being a great match for many different kitchen styles, granite is extremely durable and very easy to clean.
If you are going for a modern appearance in your kitchen, stainless steel is a great material. Stainless steel matches well with a variety of colors, and is effective at preventing bacteria buildup. It also cleans very easily with just a damp cloth and mild soap.
Becoming more popular by the year, glass countertops in the kitchen will guarantee a sleek, contemporary look. Glass comes in a variety of shapes and textures, and is very easy to keep clean.
For a natural, warm look in your kitchen, install thick wood countertops. If you install sealed wood countertops, you can cut, produce and even place hot dishes on it, because it's bacteria- and heat-resistant.
Inexpensive and easy to clean and maintain, tile is a great choice is you want to give your kitchen a classic, colorful appearance. Coordinate your kitchen countertop tiles with the kitchen backsplash and floor tile to create a beautiful, cohesive kitchen.
Budget Construction Company in Chicago has more than 35 years of experience in the kitchen remodeling business. Visit our website to see how we can transform your kitchen, bathroom, windows, roof, siding, deck, and more. Call us at (773) 663-4082 for more information about our kitchen remodeling services.
Excerpt from: