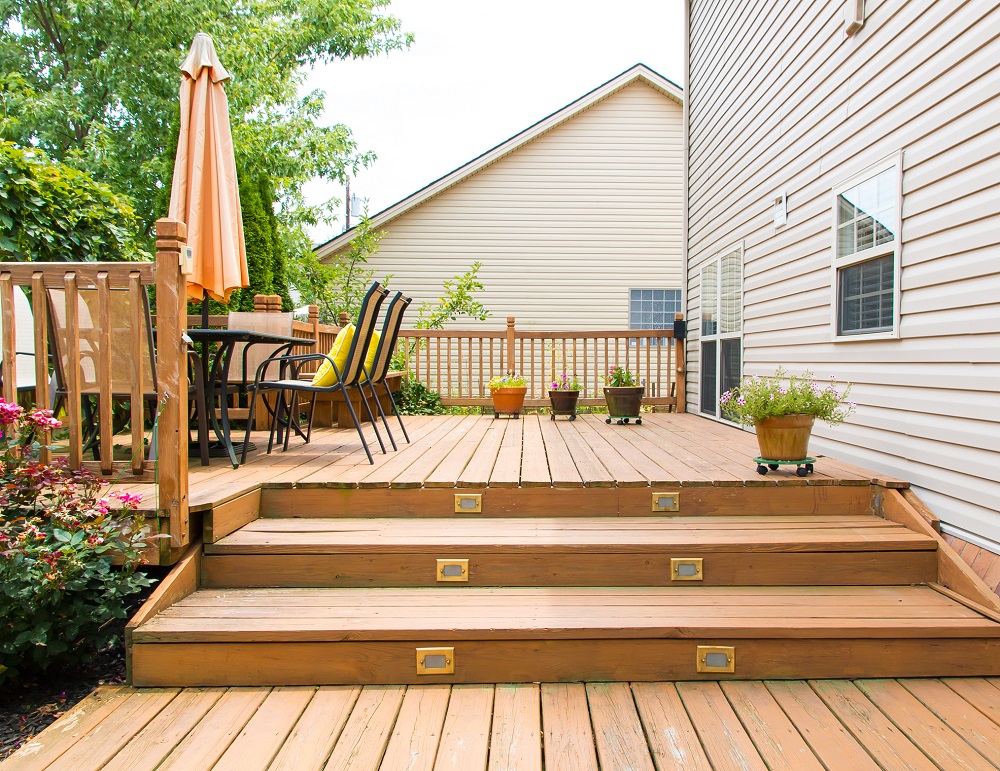 New Decks with Budget Construction Company
Like so many other features of a house, a deck is immediately recognizable as an expression of the homeowner's unique style, value, and originality. Spring is the perfect time to upgrade your home's appearance and functionality with a new deck, and the experts at Budget Construction Company offer unique and budget friendly designs that can transform any outdoor area into extended living space suitable for all occasions.
At Budget Construction Company, we are one of the Greater Chicago Area's premier home improvement specialists thanks to our commitment to value, craftsmanship, and putting our customer's needs ahead of our own. With more than 40 years of experience, our team of builders, designers, and renovation specialists can help add living space to any home at a price appropriate for all budgets.
If you would like to add a deck to your home, expand an existing structure, or take on a renovation project, do what hundreds of customers throughout Chicagoland have done: Give us a call at 773-283-9200 to arrange for a free in-home consultation with one of our sales and design professionals. Our team can help you select the right construction materials, as well as educate you on useful and stylish features characteristic of modern decks.
So what are design trends to look out for in the next few years? Customers call us every day from all over Chicago asking what is in and what is out, and here is a short list of popular features to consider for your next deck project.
– Imagine resting of your new deck in a comfortable, portable hammock. Admit it: You have actually lost track of the times you have driven through the country side only to see someone lounging on a hammock and thought to yourself, "Wow! I have to get one of those for my new deck!" Ask our design team about different styles of hammocks to fit your needs, including one or two-person models made from a wide range of colors and weather resistant fabrics.
– Talk to our design professionals about a gazebo, pergola, or hot tub. Each of these offer their own benefits, of course, but a creatively designed gazebo, for instance, can also serve as extra space for game night, arts and crafts, or numerous other outdoor activities.
– Wicker furniture and matching accessories are popular now, too. Depending on your needs and budget, we can suggest a wide range of items such as wicker chairs, ottomans, couches, recliners, and tables — all made from hand-woven fiber or even more durable, composite materials of any color, finish, and texture.
– Outdoor lighting is vital for any outdoor area that will be utilized after the sun goes down. Luckily, today's homeowner can hose from many models and styles, including energy efficient, low watt electric lights to self-powered models that soak energy from the sun. Our design team can help you find the right light for any application, such as accent lights, lights to illuminate stairs and seating areas, or even draw attention to landscape features such as a waterfall, pond, or flower beds.
– A fire pit and outdoor kitchen. Because of Chicago's notoriously early fall and winter seasons, we recommend an all-season fire pit made from Flagstone or another other durable stone to add value and usefulness to your outdoor living area. If you cook more than occasionally outside, why not consider an outdoor kitchen? We can help you choose features and design elements best suited to your needs, including food preparation and eating areas, a sink, bar, and refrigerator or freezer.
Why wait any longer? Get the deck you deserve with the best features at the price you need. Call Budget Construction Company today at 773-283-9200 or drop us a note to request more information.