If you are thinking about renovating your bathroom, 2013 is the year to do it. From vintage lighting to marble-sided shower walls, this year's bathroom design trends are focused on creating luxury and beauty. To learn more about these major trends and to get some possible ideas for your bathroom upgrade, continue reading:
Spa-Like Showers
Shower upgrades are a major change happening for bathrooms in 2013. Nowadays, more homeowners are transforming their simple, minimalistic showers by installing hand-held shower heads, marble shelving, and intricate wall-tiling. The goal of all of these design enhancements is to turn the ordinary shower into a spa that you could spend the whole day in.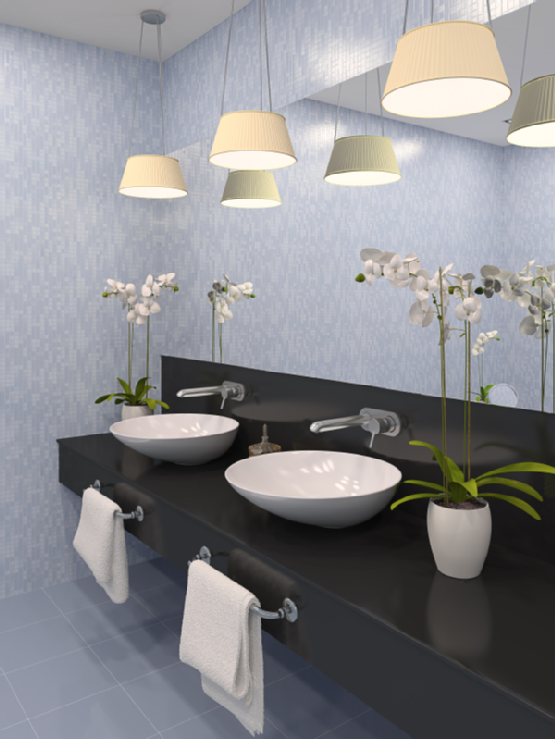 Enhancement Lighting
Lighting usually serves a purely functional purpose in bathrooms. But in 2013, people are adding lights in order to boost the aesthetic appeal of these rooms as well. Key trends include putting luxurious chandeliers into ceilings and installing vintage lighting fixtures onto walls to create a dramatic effect.
Showy Sink Faucets
The sink is a vital feature of any bathroom. Recognizing this fact, interior designers are installing elegantly-crafted brass faucets into sinks, which gives bathrooms a refined and sophisticated look.
Heated Floors
There's nothing more uncomfortable than walking on a cold floor after taking a hot shower. While this was an issue that people simply dealt with in the past, homeowners in 2013 are actively resolving the problem by installing heated flooring. Popular flooring materials used with radiant-heat flooring systems include vinyl and ceramic tile, which are available in multiple colors and can fit into nearly any bathroom design.
These are only a few of the ways you transform your bathroom into a unique space that the whole family will love. If you live in the Chicago area and are interested in updating your bathroom, call Budget Construction Company. For over three decades, our staff has been dedicated to upgrading our customers' kitchens and bathrooms professionally and affordably. Schedule an appointment with us today by calling our office at (773) 663-4082.
Link –