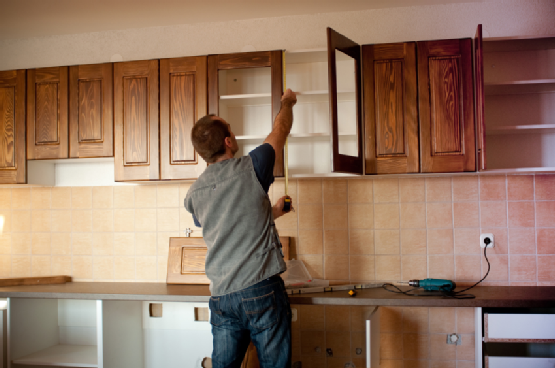 There is an old saying that nothing lasts forever, and this is especially true with things around your house. Over time, major components or features of your home will need replacement – HVAC systems, windows, doors, the roof, and even cabinetry throughout your residence. For nearly 40 years, Budget Construction Company has offered innovative solutions for consumers in the market for quality home renovations at the best prices in town.
Signs You May Need New Cabinets
One of the most ubiquitous features of your home is cabinetry. No longer just for the kitchen, an entire cottage industry has popped up as builders and designers regularly integrate cabinets in every room and nook and cranny possible: the kitchen, bathroom, home offices, walk-in pantry, work areas, and garages. Cabinets can show signs of wear after constant use. How do you know your cabinets may need to be replaced? Look for these signs:
Cracks in the doors.
Cracks in the base.
Handles or pulls that can no longer be secured to a door or drawer.
Drawers that can only be opened with difficulty, or whose track is detached from the interior.
Doors that will not close properly.
Hardware that appears broken or not working properly.
Flakes or wood or wood particles in drawers.
There are other reasons new cabinetry may be in play. For instance, they no longer fit your storage needs or your home's décor. But when you are finally ready to replace what you have, call us today at 773-283-9200 for a free, in-home consultation.
MDF versus Plywood
Over the last 50 years or so, homeowners have seen different options when it comes to choosing building materials for their cabinets. "Back in the day," solid wood cabinets were the only game in town. Now, however, there are more ecologically friendly and less expensive choices, including MDF (medium density fiberboard) and plywood. Generally speaking, both are cheaper than solid wood, and have their own unique advantages you should be aware of when shopping for new cabinets.
MDF is less expensive than plywood and has a smooth surface, making it easy to paint. Because of its smooth nature, it forms a good base for veneer surface coverings and has smooth edges, resulting in less time for cutting and installation. On the downside, it is basically particle board and is very susceptible to moisture, mold, and liquid-based damage.
Plywood – like MDF – is another engineered wood made by pressing sheets of veneer onto a solid piece. Because it comes in different thickness and grades, homeowners and builders have more options for their projects. It also is strong and less susceptible to water damage, holds screws tightly, and is stainable.
The Benefits of Wood Cabinets
Wood cabinets are always in demand, but they are not for everyone. They are durable, but require periodic maintenance. Why buy wood cabinets from Budget Construction Company?
Every wood cabinet we install has a classic, timeless appearance that can fit with any architectural style or home décor.
Wood cabinets are very customizable in terms of design, color, shape, and size.
Wood cabinets are easier to install than other types, such as metal cabinetry.
With simple maintenance, high quality wood cabinets will last for decades without warping or other signs of wear.
Finally, homeowners have numerous wood species to choose from, including Maple, Oak, Cherry, Hickory, and Pine.
Call Budget Construction Company today at 773-283-9200 to speak with one our interior design specialists or schedule an in-home consultation.