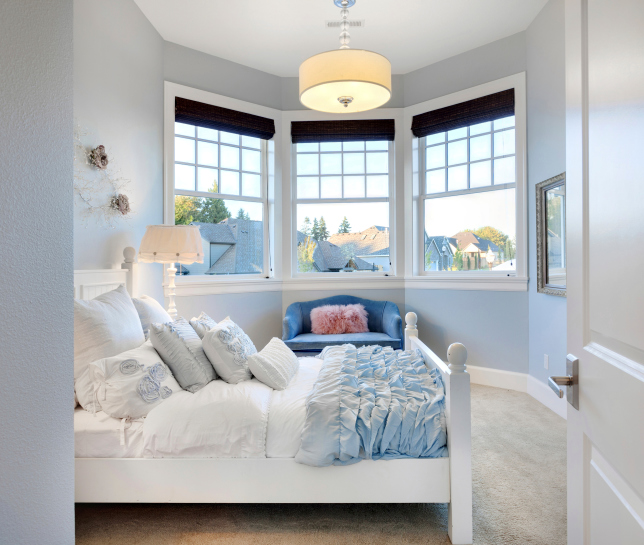 If your home's windows were installed 15 or more years ago, it may be time to consider new energy efficient replacement windows before cold weather sets in. At Budget Construction Company, we have been one of Chicagoland's premier window contractors for nearly 40 years and specialize in affordable new construction and replacement windows for any style or budget.
Major home remodeling projects can be expensive, but thanks to new manufacturing technology and high efficiency materials, replacement windows offer tremendous return on investment over the long haul. In fact, a study by Remodeling Magazine shows that replacement windows recoup more than 70 percent of their original cost for homes throughout Chicago.
The benefits of energy efficient windows go far beyond what an owner may recover when selling his or her home. Consider these reasons for investing in new windows.
Newer double pane windows with low solar-gain, low-E designs can reduce heating bills in some locations by as much as 20 percent, and save nearly 40 percent on cooling costs.
High energy efficient windows installed by Budget Construction Company may also save a homeowner money by reducing the size of the heating and cooling system your residence needs.
Today's energy efficient models offer new glazing technology that keeps your home comfortable season to season, without spikes in hot or cold temperatures. They also severely minimize condensation or frost because interior glass maintains a uniform temperature.
Enhance the overall beauty and livability of your home, thanks to styles and materials that match your architecture and interior décor. New replacement windows add more natural lighting and improve your view of the outside world while minimizing heat gain in the summer and heart loss in the winter.
Increase the longevity of your home's interior furnishings. Carpeting, furniture, artwork, photographs, flooring, paint, and even sculptures are susceptible to damage from light and harmful UV rays. Call our new window design team at 773-283-9200 and we will help you select windows with coatings on the glass that could reduce the amount of UV rays that get into your home by as much as 75 percent.
Know Your Options
It may be shocking to hear this, but not all windows need to be replaced. Any reputable window installer should provide an unbiased evaluation of the condition of your windows, allowing you to make an informed decision that is in your best interests. At Budget Construction Company, we take that philosophy a step further and give you an unvarnished assessment of your window replacement options. This means:
Helping you decide if your existing windows can be repaired. From caulking to weather-stripping, we look at factors affecting the performance of your windows, including: The presence of moisture or mold, lead-based paints on the frame, signs of water or other environmental damage, or broken window components.
Answering questions about retrofitting existing windows. Depending on the condition of your windows, we may be able to improve their performance by installing storm windows in the frame, adding solar-control window film to the glass, recommend exterior shading – think trees and other landscaping, shutters, awnings, or even solar screens – or sash replacement.
Finally, we will discuss new windows replacement options, such as partial or insert windows, or full window replacement. As part of our consultation, we strive to educate homeowners by helping them understand how windows are repaired or replaced, and provide information on energy efficiency ratings for top brands including JELD-WEN, Anderson, Pella, and others. If you are ready for new energy efficiency windows, take the advice of thousands of satisfied homeowners and call us today at 773-283-9200.