Flex-A-Bed: The best choice for an at-home healthcare bed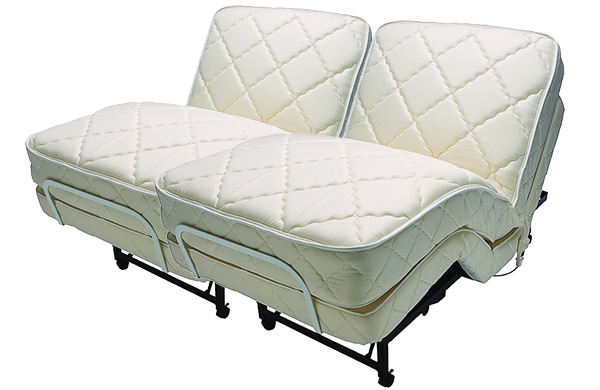 When making the tough decision to receive healthcare in one's home or an assisted living environment, it's important that an individual is surrounded by comfortable, high quality home furnishings that improve your well-being as opposed to decreasing your level of comfort. One of the most important aspects of an aging person's well being is their bed. On average, humans spend about one-third of their lives in bed, and as we age, the time we spend in bed can often increase. That's why it's so vital that individuals in a home healthcare environment have the best possible place to rest.
Budget Construction Company is an authorized Chicagoland dealer of Flex-A-Beds- adjustable beds built to your specifications. With Flex-A-Bed, you choose the size, mattress site, and model type that is best for you.
Flex-A-Beds are perfect for individuals who are in home healthcare or assisted living environments, and they are convenient, comfortable, and fully adjustable both at the head and foot, and certain models can even be fully raised higher and lower depending on your needs and comfort level. Flex-A-Beds come with your choice of either one-touch wireless controls or wired controls, so the ability to adjust your Flex-A-Bed is always within reach.
Benefits of Flex-A-Beds
Whether you've been sick or injured or you simply want a more comfortable place to rest or to get more high-quality sleep at night, Flex-A-Bed adjustable beds are the perfect choice. Because you can adjust the bed to your unique needs, we guarantee that you will start to feel better and
In addition to providing a more enjoyable place to rest and helping you to sleep better at night, Flex-A-Beds can help to relieve a number of symptoms due to injury, illness or other ailments. Some of the ailments that Flex-A-Bed can help aid are:
Arthritis
Acid Reflux
Asthma
Breathing disorders
Hiatal Hernias
Swollen legs and feet
Phlebitis
Varicose veins
Back pain
Neck pain
Having a Flex-A-Bed eliminates a number of pesky irritations that regular beds can present. Because Flex-A-Bed fits to your body and can be adjusted depending on your daily needs, you'll never have to worry about stacking pillows, tossing and turning in bed, or worse- sleeping in a reclining chair.
The Flex-A-Bed is an extremely high quality bed with a high-density foundation and heavy duty base. All Flex-A-Beds come with a 5-year warranty and are made with material that is guaranteed not to warp, squeak or break. While a Flex-A-Bed is a great option for anyone in a home healthcare environment, it should not be considered an alternative to a hospital bed. We encourage our clients to first consult their physician to make sure that an adjustable bed is the appropriate choice for them.
Flex-A-Beds come in a variety of models including Premier, Value Flex, and Hi-Lo. For more information of Flex-A-Beds, call Budget Construction Company today at (847) 647-0902 to speak with a member of our staff about how we can help get you or your loved one on a path to better, more restful sleep.