Home Interiors: Bathrooms
Time to Remodel your Bathroom?
Make sure you enjoy the look and feel of your bathroom, as you spend a lot of time in it every day.
At Budget Construction Company we provide each of our clients with a broad range of fixtures and fittings for their bathroom remodeling needs.
We supply all major manufacturer products which include but are not limited to bathtubs, jacuzzis, shower doors, glass, as well as toilets, vanities, and mirrors. We also offer an array of quality tiles to choose from to suit your style and budget.
Homeowners are starting to spend more money on redesigning their bathrooms, especially master bathrooms, to make it a bathroom you enjoy being in. Everything from your bathrooms cabinets, tiles, to the sink and vanity tie in the room and overall feel.
The master bathroom in your home is considered one of the most highly regarded amenities in the home so remodeling it will increase the overall value of your home. Your master bath and additional bathrooms are no longer considered strict utilitarian rooms, they are now known as a personal retreat or sanctuary in which to start the day then come to unwind after a long day.
With Budget Construction Company we offer bathrooms that may feature cozy and luxurious whirlpool tubs with sconces for mood lighting and interior windows for passing natural light. We love being able to remodel a bathroom to show off windows and high ceilings. No amenity goes unnoticed as we make it our goal to make everything come together perfectly.
It's important for us to provide you with everything you need and want for your remodeled bathroom. Contact us at Budget Construction Company and we will help you turn your bathroom into an inviting and relaxing addition to your home.
Chicago Bathroom Installation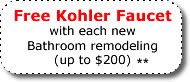 Do you need assistance with bathroom plumbing and installations? At Budget Construction Company we have a staff of seasoned plumbers with the experience and knowledge to do the work correctly the first time.
If you're planning on renovating your bathroom, speak with us first. We can resolve any bathroom plumbing issues required to design and build your dream bathroom. It's time to make your bathroom a place you enjoy being in.
Contact us at Budget Construction Company for all your bathroom remodeling and installation needs. We can help you with everything from design, layout, repair, update or a complete remodel. Let us help you build the bathroom of your dreams.
Chicago Bathroom Remodeling | Chicago Bathroom Renovation | Chicago Bathroom Design
** This offer does not expire.